Hey folks! Just a quick post today on what I've been working on and a few quick tips for designing your own invitations in Microsoft Publisher that I've learned the hard way.
If you recall my post two weeks ago, I've been crushing hard on airmail-anything. As a result, this is what I've come up with so far. Keep in mind -- this is just a draft (the "and" is still bugging me, and the justification isn't quite right). Progress will be posted in a future MFB post.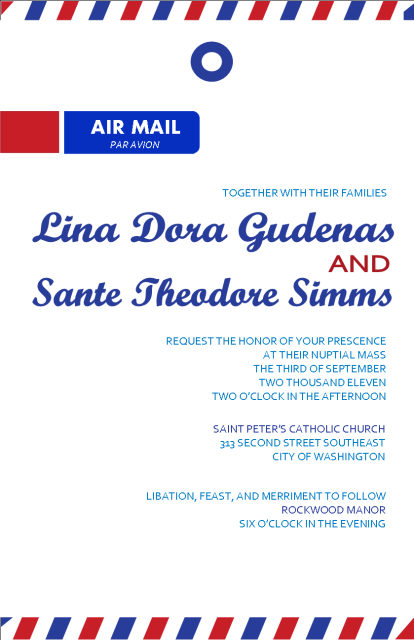 A few Publisher tips I've learned along the way:
- Use "Word Art" for any large "banner" sort of items, like for our names here. It keeps you from having to adjust the font size a million times. Plus, you can stretch, turn, flip, and pretty much abuse it any way you need if you do so. Using a text box is much more limiting. Plus, you get all the outlining features, which are pretty neat.
- Shapes are your friends. In this example, I made the blue circle to mimic a button and string closure, as well as the airmail / par avion "sticker" to pay homage to some of the great airmail stickers I've seen on vintage airmail postage. Easy pee-zy.
- Save multiple files/versions. Trust me, you'll second think some of your changes, and it's great to be able to go back to a past version without trying to re-create you've already done.
That's it for now! Back to invitation creating for me. Comments and constructive criticism welcome. Updates to come. Enjoy your weekend!