Hey folks! So this post is less about a project I'm working on (though there are
many of those
), but rather about a way to organize your inspirations.
You may remember my
faux corkboard project
from a few months back. I'm still using and loving them, but they have one main drawback -- they're at home, in my room -- meaning not near a computer, which gives me the greatest amount of sources of wedding inspiration.
What's an inspired lass to do? Sign-up for
Pinterest
!
Basically,
Pinterest
allows you to save all the beautiful pictures you love for your wedding (or
anything else
) all in one convenient location. No more saving to your hard drive, emailing yourself, or printing out random pictures. Instead, "pin" something to your board, leave notes about the image, and access it from anywhere. Best of all, you can share it with your friends (or fiance) easily by email or by "following" you !
Here's a screen shot of my main entry page, so you can get a sense of it: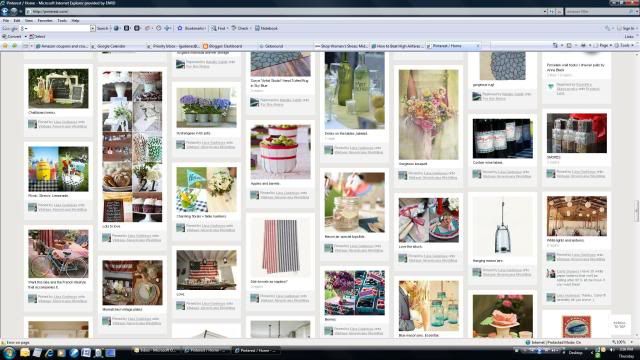 I've already told two people about Pinterest
today
(not counting the millions of you following this blog! Ha!). I'm that obsessed, and I think you will be, too.
Here's a look at "my" page that features just my boards and the images I've pinned to them. You'll see a nifty "Vintage Americana Wedding" board in the bottom left corner. It probably even has some of the images from
the inspiration board Shannon
made for me a while back.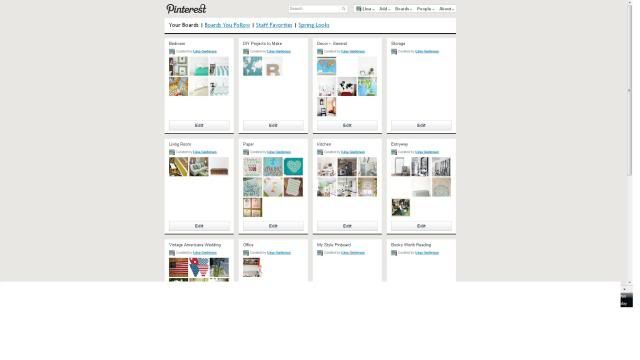 Anyway, I think Pinterest might be by invitation only right now, so if you need an invite, please feel free to leave your email in the comments section, and I'd be happy to send you one!
Happy pinning!